Arnaud Foisy publie dans la revue Plos One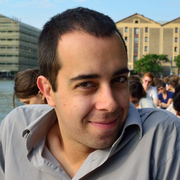 Arnaud Foisy, enseignant à l'Institut de Pédicurie-Podologie Ecole d'Assas et Doctorant en Sciences du Mouvement, publie le premier article de sa thèse dans la revue américaine Plos One, sous le titre « Controlling Posture and Vergence Eye Movements in Quiet Stance: Effects of Thin Plantar Inserts ».
C'est la première publication internationale indexée sur Pubmed qui démontre de manière objective que des stimulations plantaires fines (inserts de 3mm d'épaisseur) permettent d'améliorer l'équilibre et ont également une action sur certains mouvements des yeux. Dans les deux cas l'effet est différent selon la zone plantaire stimulée.
Cette étude, réalisée avec le groupe IRIS (FR3636 – CNRS), participe donc à une meilleure compréhension de la physiologie de la sensibilité plantaire et de son rôle dans le contrôle postural et oculomoteur.
Elle a des perspectives cliniques importantes : pour les podologues, ces résultats objectivent les effets posturaux de reliefs plantaires qui peuvent sembler très fins et la différence de cet effet en fonction de la localisation de la stimulation.
Pour les professionnels de santé s'intéressant à l'œil, cela peut les aider à prendre conscience des différences possibles entre assis et debout et à préférer l'examen postural et oculomoteur des patients en condition écologique.
Pour tous les cliniciens, ces résultats invitent à développer une vision systémique, intégrative, globale du fonctionnement humain et à coordonner la prise en charge des patients entre les différents thérapeutes.
Vous pouvez consulter cet article ainsi que les autres publications d'Arnaud Foisy sur ce site :
https://www.researchgate.net/profile/Arnaud_Foisy/contributions