The sharing of information is vital to the progression of healthcare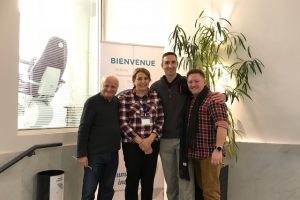 Dan Fleury, Vice President of Pinnacle Rehabilitation Network, has been back in Paris for our International Week. He kindly accepted to answer our questions.
1) Dan, you were back this year for our International Week and gave 30 hours of teaching in 5 days: that's no holiday at all, how did it go?
Dan Fleury: I was very pleased to come back to the school and see all the students I had the pleasure of teaching last year. It was great to hear how they remembered some of what they were taught and were implementing some new techniques in the clinic. Its always wonderful to see the professors and meet new ones from all over the world. I think the sharing of information is vital to the progression of healthcare. I always learn new things from the students and professors. Each time I come back I have new information to share with my therapists here in the US.
2) Apart from the clinics you gave to our PT students, you introduced our podology and occupational therapy students to clinical reasoning: are you used to such a pluridisciplinary encounter and how did they react?
Dan Fleury: During my everyday practice I have the pleasure of interacting with professionals from all different healthcare disciplines. Clinical reasoning is a skill that is difficult to grasp for students but it is vital to understand and be able to implement into clinical practice. The topic is a difficult one but all the students handled it like professionals and it is my hope they will all take that framework and build their future successfully!
3) You come to teach and share your experience but do you learn something from French PT or health care? Does this international experience bring you anything in your daily practice?
Dan Fleury: I never go to sleep without learning at least one new thing a day. When I teach there in France the chance to interact with so many students and so many other professionals affords me a wealth of new information. The healthcare environment is so different in France it's interesting to compare pros and cons of each system and see the impact that has on the way we practice physical therapy in France vs the US.
4) A final word?
Dan Fleury: Always a pleasure to come and share information! I truly enjoy teaching and I don't get to do enough of it in my everyday work!