China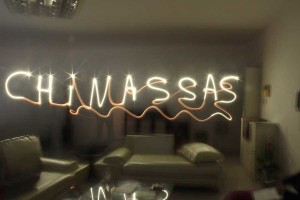 The College has been encouraging international mobility amongst its students in the form of placements since 2009. This mobility involves a contract between the student, college and incoming college.
Recognition of mobility is based on taking the overseas placement into account as part of training. The intercultural experience is also promoted through the use of placement information upon the student's return or through reports and blogs.
The College has signed a cooperation agreement with Wenzhou Medical College which saw five students spend seven weeks in China. Here is their report.
Also read the experience of Julien Cramet in China, teacher at the Assas School of Physiotherapy and accompanying teacher in 2014 and 2015.
An introduction to traditional Chinese medicine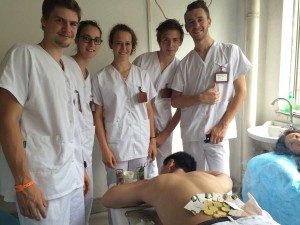 As part of the cooperation agreement between Ecole d'Assas and Wenzhou Medical College (China), we five second year students (Adrien, Albin, Anne-Claire, Léontine and Parcheco) spent seven weeks on a placement in the city hospital located 400km south of Shanghai. Mr. Julien Cramet, first year teacher, joined us in July and Shotaro Tachibana, second year teacher, joined us in August.
The first five weeks of the placement introduced us to Chinese culture and particularly traditional Chinese medicine (TCM) during theory, observation and practice lessons.
We were able to learn the basics of acupuncture, Tuina (Chinese massage), cupping techniques, moxibustion and even scrapping. We understood their usage in rehabilitation. Chinese massage was a real eye-opener for us especially for easing pain even though this type of massage is very painful in itself!
We were able to observe doctors treating patients using a range of medicinal plants each with their own properties. We found out that traditional Chinese medicine tends to be used for preventative reasons.
A rehabilitation service that's still very new
The last two weeks of the placement were spent in physiotherapy rehabilitation. We were able to compare the rehabilitation offered to patients in China to the everyday work of physiotherapists in France.
Although rehabilitation in China is fairly similar to France, we noticed that therapists worked more prudently, mainly active and passive movements. This can certainly be explained by the recent launch of the rehabilitation service which is only a dozen years old. Although popular in France, some techniques are unknown such as specific movements, proprioception exercises and neuromuscular reprogramming. Respiratory physiotherapy is not practised.
However, all physiotherapists have the ability to work as physical, occupational and speech therapists. Most patients suffer from very severe ailments (cerebellar syndrome, hemiparesis, traumatic brain injury, various severe fractures).
We were able to observe and learn several manipulations specific to the temporomandibular joint.
We were invited to watch operations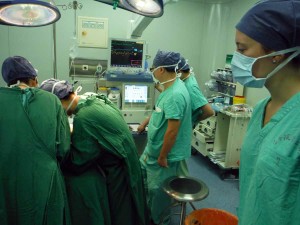 We also had the opportunity to watch a variety of fascinating operations: surgery on a 4-month old baby with hydrocephalus, surgery on the right hand after a fracture, skin graft on the leg, eye surgery, C-section.
Our free time was spent exploring: a trip to Wenzhou Island, hikes in the mountains surrounding the city, Kung-Fu lessons, Mandarin lessons, introduction to calligraphy and learning about Chinese cooking. A week in Shanghai gave us a sense of China's economic and cultural power.
The experience was incredibly rewarding for each and every one of us. We learnt about a healthcare system that's very different to ours if only in terms of patient flow. We were met by incredibly warm people who are completely devoted to their work and their patients.
The placement made us want to find out more about all the techniques we encountered. It will always be a highlight of our training at IFMK Assas.
Léontine Roux, K2 student 2014-2015
More about the internship in Wenzhou