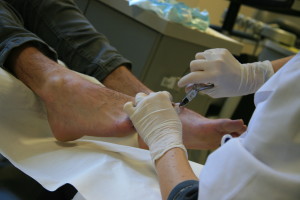 Podiatrists are healthcare professionals who diagnose and treat skin or nail ailments in the foot. With a prescription, they design and make orthotic insoles to correct static and dynamic issues, unequal leg length and alleviate pain in the feet.
Podiatrists can also prescribe certain products as per an order from the Ministry for Health.
Currently there are almost 12,000 podiatrists working in France, 68% of whom are women (source DREES / March 2012).
Private, independent and autonomous work
Podiatrists are independent, autonomous and are visited by adults, children and athletes to treat skin or nail ailments in the foot as well as morphological, static and dynamic problems. Although they work closely with doctors and healthcare figures, they are among the few healthcare professionals to be able to openly receive patients.
Complete patient care
Podiatrists start with a clinical examination of the patient's foot and musculoskeletal system (lower limbs and spine) before diagnosing the ailment. They are responsible for choosing the appropriate treatment. They design any equipment required themselves. They use their manual and technical skills to custom-make inserts (insoles to correct or compensate for foot anomalies), orthotics (small orthoses placed around or between toes to protect, separate, distance or align them), orthonyxia (braces to guide or correct nail growth) etc.
Podiatrists follow up to check the results of the treatment prescribed to the patient.
Which sector: private or public?
The podiatry sector has been steadily growing for fifteen years. With one practitioner for every 7000 people, the market still has fantastic prospects as long as you choose the right region. Big cities are usually swamped whilst rural areas or certain regions with no training centres offer real opportunities.
Podiatrists tend to opt for the private sector as the public sector is still lagging.
In the private sector you can choose to be a:
Replacement: working in place of a professional. You temporarily treat their patients (e.g. during holidays or maternity leave) and they pay you a percentage of the hours you've worked. Many young professionals do this after leaving college to gain experience without having to invest financially.
Assistant (or colleague): working in a physiotherapist's clinic usually because their workload is too much. The clinic owner provides you with a room, equipment and patients. In exchange, you pay a lump sum based on a previously agreed percentage.
Partner: partly investing in a clinic with one or several other professionals. You have a contract to define the clauses of the partnership.
Owner: either by buying a professional's clinic, buying premises, equipment or "putting your name on the door". In the second case, it takes longer to set up because you have to build a patient base.
There are other ways to build your career:
Paramedical clinics: they bring several healthcare professionals together (a physiotherapist, a podiatrist, a speech therapist etc.) and provide a more general cross-disciplinary approach.
Healthcare network: made up of private healthcare professionals with the aim to encourage access to treatment, the coordination and continuity of treatment. Network members gain from other people's experience and share knowledge.
Lifelong learning
As a major figure in the Healthcare policy, podiatrists must be able to evolve with their sector and their patients' needs. Lifelong learning aims to enable professionals to maintain a high standard of skills after graduating.
There is a variety of lifelong learning: you can choose from short courses which last a few days or enrol on a university diploma (DU). For further information about lifelong learning, please visit ASSAS FORMATION CONTINUE website.
Podiatrists can also take a Healthcare Supervisor course lasting one year. Qualifying as a supervisor enables you to teach in a training centre and/or have a teaching role in a department.