The IFMK teaching project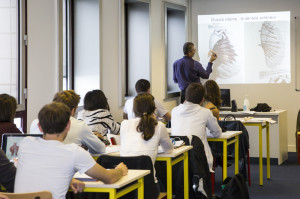 The teaching project is a cornerstone of IFMK Assas. Our staff strive to prepare their students to work in the profession they have chosen. We encourage the development of skills required to work in the healthcare sector which requires the physiotherapist's physical and personal commitment.
"Physio" means physical in Greek. We teach budding physiotherapists about how the human body works, how it can be affected by illness or accidents and how it can be "repaired". Theory learning is always paired with practical examples whether it be during practical lessons at the centre or during placements.
Since the core of physiotherapy is bodily and physical action (massage, movement, medical gymnastics etc.) in a social and personal environment, we work with students to develop their gestural ability, listening skills and understanding of their future patients.
A love for treating patients, an interest in people, understanding them and being understood, finding their own form of physical and personal expression and handling a specific technical feature, this is what we strive for as we support our students for the 3 years they spend at Ecole d'Assas.
With their knowledge, expertise and experience gained from placements, future practitioners will be ready to prove their skills in a medical and social setting that's always changing. They will be ready to begin their professional journey.
In order to ensure both the value of the diploma and the training and to preserve the school's reputation, Ecole d'Assas is a subscriber to the anti-plagiarism software Compilation.
Check the Ecole d'Assas anti-plagiarism Chart.