Vietnam
In 2013 and 2014, two 3rd year students had the chance to do a month-long placement at the Hospital of Paediatrics in Hanoi through an international volunteer association. Here's their account of the experience.
Hospital of Paediatrics in Hanoi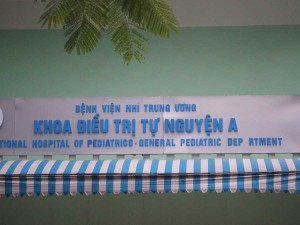 The hospital is on the west side of the city centre in the Dongda district near Ngoc Khanh Lake. There are 900 people on the medical staff in various departments (emergency, gastroenterology, neurology, pulmonology, oncology, infectious disease, nephrology, cardiology, surgery, neonatology, intensive care, psychiatry, rehabilitation etc.). The National Hospital of Paediatrics sets the benchmark for paediatrics in Vietnam. 190,000 patients attend the hospital for consultations and 80,000 are admitted every year. There are over 1500 consultations every day and the most serious cases are admitted to the hospital.
Little equipment, lots of adapting!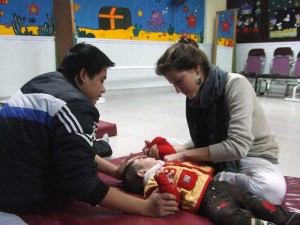 The hospital is meant to be for children aged 0 to 16 but young adults (up to 20) are admitted to provide after-care. Children come to Hanoi from all over northern Vietnam as well as the central and southern regions. The hospital is also the biggest paediatrics research centre in Vietnam. It collaborates worldwide with Korea, Australia, Japan, France, Switzerland and the US which provides significant support to the hospital. There are a total of 500 beds for over 900 children. Mothers stay with their children the whole time and have to share a bed for two with their children in their arms. The hospital often admits children who have been previously hospitalised in hospitals outside the capital. When these hospitals can't treat the children, they send them to Hanoi to the National Hospital of Paediatrics. That's why there are children from all over Vietnam here.
All communication during the placement was in English which meant I really had to work on my English.
Placements were from 8am to 4pm with a lunch break. The children being treated have a BMI of 80. It was nothing like other placements, I'd never practised neuromotor levels on such young children; reports were very scant so technical movements weren't very accurate. The hardest thing was knowing how to behave with them. I encountered a wide range of ailments: brachial plexus injury, congenital torticollis, scoliosis, autism, congenital orthopaedic deformities.
An incredible personal journey!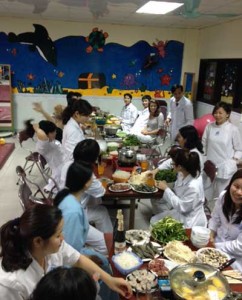 Physios require a lot of knowledge. Consultant physios attend conferences outside Vietnam as much as possible. We discussed the differences a great deal. I'd like to thank Mr. Debeauquesne for his lessons about electrotherapy… "Machines here aren't pre-programmed!"
Lucie, K3 2012-2013 – Paloma, K3 2013-2014