Japan
A placement in Saitama, north of Tokyo
As a 2nd year physiotherapy student at Ecole d'Assas, I had the chance to do a placement in Japan thanks to the relationship between Shotaro Tachibana, a teacher and former student at the college (DEMK 2007), and a clinic in Japan. The placement was in the Kawagoe Clinic in the Saitama region north of Tokyo.
As I have dual nationality (French and Japanese), this placement meant a lot to me both personally and professionally. I wanted to see another side to Japan and especially through my future career. Experiencing a completely differently healthcare system, working methods specific to Japanese society and the differences in physiotherapy techniques were my main sources of motivation. I also wanted to learn to work in Japanese and better my knowledge of the language in the fields of science and medicine.
The Kawagoe Clinic
The Kawagoe Clinic was founded in 2004 as a private clinic belonging to Saitama University's Medical Faculty. It is six stories high and covers 4000m². Patients are treated on an outpatient basis in various specialist departments including rehabilitation, sports medicine and oriental medicine. The rehabilitation department covers a range of services:
Orthopaedic ailments (mainly): rotator cuff tears, slipped discs, lower back pain, ligament repair, full replacements, fractures, dislocations, rheumatoid arthritis.
Sports physiotherapy: anterior cruciate ligament injuries, muscle damage, sprains.
Loss of motor skills in elderly patients.
Loss of physical ability following long-term hospitalisation.
Neuromuscular disorders (rarely).
A wide variety of ailments and patients of all ages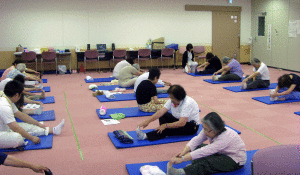 I was met by the entire rehabilitation team on my first day: seven physios, an occupational therapist, a Rehabilitation Medicine doctor and two 4th year placement students. The range of patients treated during the observation period was very varied in terms of ailments (issues affecting the entire musculoskeletal system) and the patients themselves (children and elderly, lots of teenagers and young athletes).
I noticed the differences between these patients and those of previous placements I'd undertaken in France: the Japanese tend to be incredibly flexible no matter their age and the main posture among the population is pelvic tilt with bow legs. Also, the national culture means that the Japanese often sit on the floor or lie on futons so rehabilitation on a low work surface or a tatami is preferred (full knee flexion is a routine requirement for the same reason).
Rehabilitation techniques themselves are similar to those used in France, specific movements and self-recovery have a key role in treatment. I observed massage techniques that exist in France but they weren't called "massages" as they are only provided by specific professionals e.g. physios. Another difference, related to the culture: the patient wears the bare minimum even for techniques requiring the different bodily tissues to be palpated.
Experiencing the professional world in Japan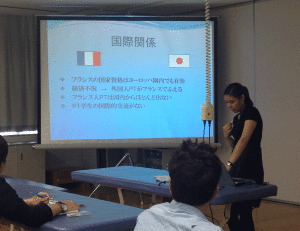 In terms of working methods, the pace of the day and rules are demanding (there are no private clinics in Japan but the pace of the work is similar). I also noticed total and relentless attention-to-detail and commitment from the treatment team during the 4-week placement. I assisted each of the 7 physios on the team who translated specific medical terms into English so I could understand. However, there is a more obvious hierarchy in the physio/doctor, physio/physio and physio/student relationships than what I've experienced in France and the physio/patient relationship is particularly respectful. Despite the highly "professional" relationships, the physiotherapy team had a great bond.
It was fascinating to monitor patients during specific rehabilitation to return to sports, namely sports which are little-known in France such as baseball (cuff tear) and kendo (shoulder girdle instability).Most physios at the clinic specialised in an area of sport. I also supervised low-intensity aerobics classes organised by the Saitama Region for the elderly for preventative purposes. It was a chance for me to have closer contact with patients (advice, posture and movement correction etc.).
As part of a seminar about physiotherapy and overseas provided to students from several cities in Japan, I was asked to make a presentation about physiotherapy in France and the differences with Japan. I was able to meet up with several students who'd come to Paris in March as part of the PT K1 at Assas. I spent a long time talking to them and took part in a practical session about lower back pain which another speaker at the event offered them.
As rehabilitation tends to take place in hospital, I was fortunate to be able to do my placement in one of the few specialist rehabilitation centres. Despite not being able to practise much, I really enjoyed the entire placement which enabled me to improve my career path, experience working in Japan, better my physiotherapy skills and revive my interest in many fields. I'd therefore like to thank JJ. Debiemme, N. Maurice and S. Tachibana as well as D. Matsumoto, Y. Okubo and K. Amemiya, my placement mentor, for this wonderful experience. I was delighted to be able to take part in the expanding international exchange project at Assas. Experiencing other professional cultures can be but beneficial so what could be better than improving international relations whilst studying!
Clémence Bourgeois, K2 2014-2015