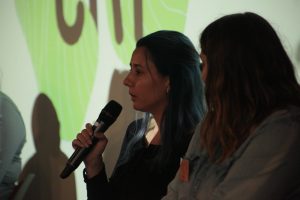 Hello! My name is Yüsra! I am living in Istanbul, Turkey. I am a last year physiotherapy and rehabilitation student at Marmara University. I came at Ecole D'Assas with Erasmus+ Project. It was an amazing experience for me to be in Paris as a student. I want to share my experience and let more people know about it.
Why Erasmus? Since I was a child, I've been watching travel TV shows and I dreamed of visiting one day some other countries in the world. First of all Erasmus+ was a great opportunity to do this. Traveling abroad, meeting new people, getting to know different cultures, discovering new tastes, and sharing a moment with the people like you… I've also been able to do internship and I got a lot of clinical experience. I have seen working conditions in a different country. It was an incredible opportunity for me to discover new and different working fields and other treatment styles about physiotherapy. The whole process has been successfully organized with the delegates of both schools and ot gave me a great opportunity to improve my self-development
The adventure started on September 14 and ended on January 18. I did an internship in different places for 4 months. All my supervisors during my internships were successful in their fields. They have been always respectful and helpful to me and always concerned about teaching me different methods. Talking to the patients was hard for me because of the language barrier but they always helped me about it. I learned a lot of new things also and had the chance to practise. Especially post-cancer rehabilitation and urogenital rehabilitation internships have been really interesting for me. I've been in a cancer surgery. It was a new and unique experience for me. I learned the position of physiotherapy in France. I have experienced working conditions. I have knowledge in different fields of physiotherapy and I learned many different techniques. Also I had chance to work with different professions like orthophonist or occupational therapists.
I also helped as a volunteer during the ENPHE conference (European Ntework of Physiotherapy in Education). I had the opportunity to give my opinion about the physiotherapy training. Students were invited to participate to Mr Taddei, President of the Center for Interdisciplinary Research (CRI), conference on "The reversed conference. What would be the ideal physiotherapy class?"
I couldn't spend a lot of time at school because of my internship, but I still managed to make friends. It was fun to spend time with them. I joined the integration week end party. It was amazingly crazy! I met with a lot of people in there. We had fun, danced together. We've moved away from all the stress and enjoyed being young. I am really proud to have been a member of Assas Army even for a while! And I learned different games from my friends. I didn't think it would have been be so hard to know about 'Santa Claus'. And there was a game that I will never forget: Jungle Speed game! I think I'll have to come back to France for the rematch!
I had time to travel so I visited Strasbourg, Colmar, Lyon, Marseille, Nice, and Bordeaux in France. After France, I visited Bruges and Brussels in Belgium, Amsterdam in Holland and Berlin in Germany. I met with new people. Some of them were students like me some Others were travellers from other countries. We shared our cultures, foods, experiences, ideas… All these were amazing! Just being there game me an incredible happiness. Everything I imagined become true. I am really happy to have joined Erasmus+ Project as a member of Marmara University and invited by Ecole d'Assas. I will never forget these 4 months in my life!
Special thanks to my Erasmus coordinators Nicole Maurice, Eda Tonga, Semra Oğuz and İrem Burcu Omurtag. They worked hard to make a dream come true. They were always so nice, helpful and motivating. They made this experience possible and positive for me. I know that everyone works devotedly in teamwork and I respect it very much.
Special thanks to Michel Pillu, Nilüfer Keskin Dilbay and Alexandre Tan because of all the helps in my license thesis. They were always very patient and understanding to me.
Special thanks to all my supervisors in Hopital Tenon and in Leopold Bellan, to Asma Ben Youssef and Delphine Lelong for everything they taught me and for their support.
Special thanks to my friend Gabrielle Lebranc Söğütçü & her family for all her help during my adaptation to Paris and for being so kind and nice all the time.
Special thanks to Luc Legay and Marie-Odile Legay for being the best hosts I've ever seen and making me feel like someone from family.